Grassline Sports Marking Liquids
Line Marking Paints
Grassline stock a range of professional line marking paint for both natural and synthetic turf and hard surfaces.
Buy Online
Line Markers

Grassline stock a range of transfer wheel and spray line marking machines suitable for amateur and professional use.
Buy Online
Aerosols/Applicators

Grassline supplier a range of aerosol sprays and handheld to 2 and 4 wheel applicators offering total control.
Buy Online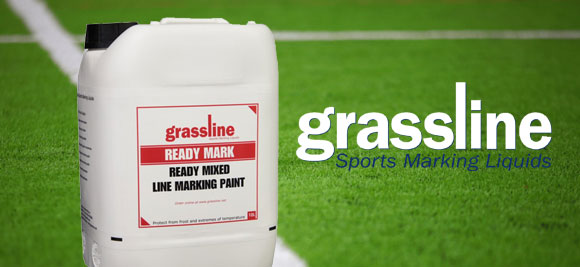 About Us
Grassline Sports Marking Liquids is a specialist manufacturer of water based line marking paints for use on all types of sports surfaces plus the line markers and applicators with which to apply the lines.

We manufacturer high performance white and coloured line marking paint concentrates for use on natural grass, artificial grass, hard surfaces such as tarmac, concrete and redgra and rubberised Athletic surfaces.

Hard surface paints can also be used to mark school play grounds and car parks.
All our paints are available in 10 litre heavy duty security tamper evident screw capped bottles in a concentrated form for dilution with water, so that you can choose the most appropriate strength of mixed paint to suit your situation.

For those customers who would rather not mix up their own paint, we can supply you with Grassline Ready- Mark, a white, ready mixed line marking paint.

We also have a range of solvent based 750ml aerosols to provide both permanent and temporary lines plus a range of aerosol applicators.

Grassline also sell a range of professional transfer wheel and spray line markers.

Whatever your requirements or situation, we can offer you a solution to meet the line marking task in hand and what's more, all our prices include the delivery charge, so there are no nasty surprises when it comes to paying.

Grassline Line Marking Paints
Please now click through to the Grassline website to see the full Grassline range, full products details and prices.
Visit website
More information

Grassline Sports Marking Liquids

The full Grassline range of line marking paints, markers and accessories is available to any individual, company or organisation involved in the marking of sports pitches.
We can supply a minimum of 3 bottles plus of white line marking paint (1 bottle in the case of coloured paint) by carrier across the UK with half and full pallet quantities also available by a pallet carrier across the UK.

Please see full details of quantities and prices on the Grassline website.

Orders can be placed through the Grassline website or you can call us direct and place your order over the telephone or by email - whichever is the most convenient for you.

We look forward to speaking with you, if only to give you advice and information.

T: 01924

NoSkype

403344
W: www.grassline.net
E: info@grassline.net